Houston Commercial Cleaning
5 Simple Things You Must Expect From a Professional Cleaning Company
Deep Cleaning System
The company, at least, puts the 3 basic steps to the cleaning process: preparation, cleaning and finishing.
Premium Products and Advanced Equipment
The company will be careful in choosing what products or equipment the cleaners should use.
Attention to Detail
A quality cleaning service delivers perfection every time. The cleaners know that there are different styles and sizes of furniture; and, every piece of it needs a specific treatment.
Customization
The cleaners are ready to give a customized cleaning plan out of the janitorial or cleaning services they offer.
100% Satisfaction Guarantee
A professional cleaning company is proud of their customers' satisfaction. The company will guarantee every cleaning result and can respond to any complaint in a professional manner.
"CALL US" NS COMMERCIAL CLEANING YOUR BEST OPTION!!
Source: Ezine Articles
NS COMMERCIAL CLEANING, specialize in providing the highest quality in professional janitorial services & maintenance to banks, office buildings, commercial, schools and much more around Houston area, We address their requests with ease!!! CONTACT US AT (832) 607 - 1117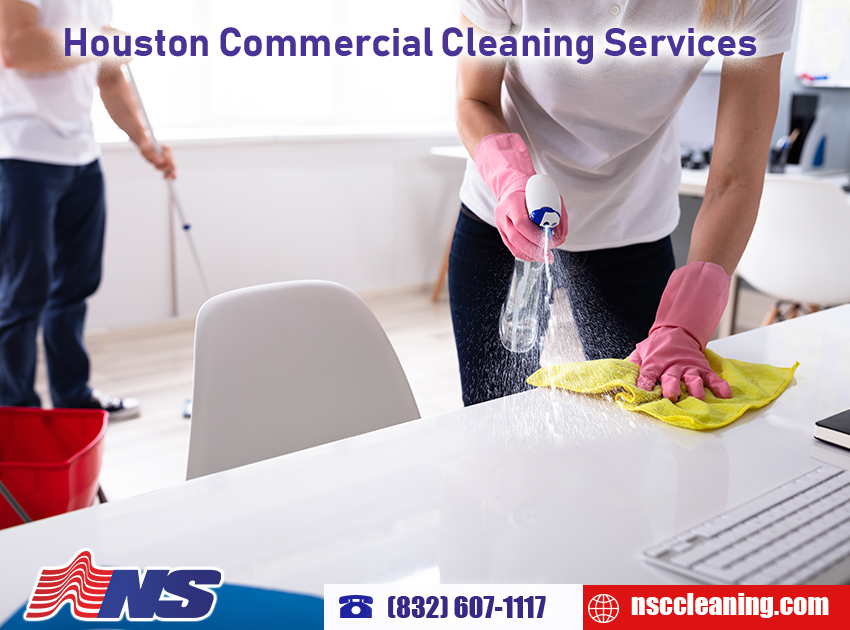 Houston Commercial Locations Cleaning
houston commercial cleaning, houston janitorial cleaning, houston commercial locations cleaning, houston shopping centers cleaning, houston financial institutions cleaning, houston office building cleaning, houston schools locations cleaning, houston preschools buildings cleaning, houston private institutions cleaning, houston church groups cleaning, houston dental offices cleaning, houston hospital facilities cleaning, houston day care offices cleaning, houston country clubs cleaning, houston fitness centers cleaning, houston health clubs cleaning, houston new construction cleaning, houston post construction cleaning, houston relocation and moving cleaning, houston pre and post event cleaning, houston floor stripping, houston floor waxing, houston apartments cleaning, houston condos cleaning, houston auto dealerships cleaning, houston retail stores cleaning, houston restaurants cleaning, houston kitchen cleaning, houston bars cleaning, houston construction cleaning, houston post construction cleaning, houston building cleaning, houston heavy cleaning, houston house cleaning, houston deep cleaning, houston office cleaning