Why Hiring A Commercial Cleaning Company Is The Right Move
Houston Commercial Locations Cleaning
Hiring a commercial cleaning company may come at an additional expense to employers, but it's an expense that ultimately pays off through increased employee productivity. Employers of restaurants, offices and other facilities don't pay their employees to clean, and every moment employees spend cleaning is a moment that takes them away from the job they were hired to do. Even if an employee spends only ten minutes a day cleaning, at the end of a regular workweek this adds up to 50 minutes of lost time. If you multiply that number by just ten employees, you're looking at 500 minutes, or over eight hours of lost time per week. Letting a commercial cleaning company handle such tasks means that employees can concentrate on doing their jobs instead of wasting company time performing janitorial tasks.
Since a commercial cleaning company's job is to clean, an employer will likely get better overall results as well. Employees who have to take time out of their day to clean will likely do a substandard job, cutting corners and rushing through the work. Some employees may even resent being tasked with this extra work, and may purposely do a sloppy job. What's more, employees who aren't cleaning professionals may not know the proper procedures, and could potentially damage surfaces by using the wrong cleaning products or spread harmful bacteria around the workplace due to improper cleaning techniques.
This is especially true in medical offices, where safe and thorough cleaning is essential. In a medical setting, which requires hygienic conditions, contamination due to improper cleaning could have serious consequences. Allowing employees to clean such facilities puts both employees and patients at risk, and this is a risk that employers should think twice about. Employees who aren't cleaning professionals may inadvertently spread germs and contaminate sterilized items while attempting to clean spaces in a medical facility. Hiring a commercial cleaning company will ensure that medical offices are cleaned properly, by trained professionals who have experience cleaning sensitive areas. This allows employees to concentrate on the more important aspects of their job, and can lead to a greater level of overall care in medical offices.
Source: Ezine Articles
NS COMMERCIAL CLEANING, specialize in providing the highest quality in professional janitorial services & maintenance to banks, office buildings, commercial, schools and much more around Houston area, We address their requests with ease!!! CONTACT US AT (832) 607 - 1117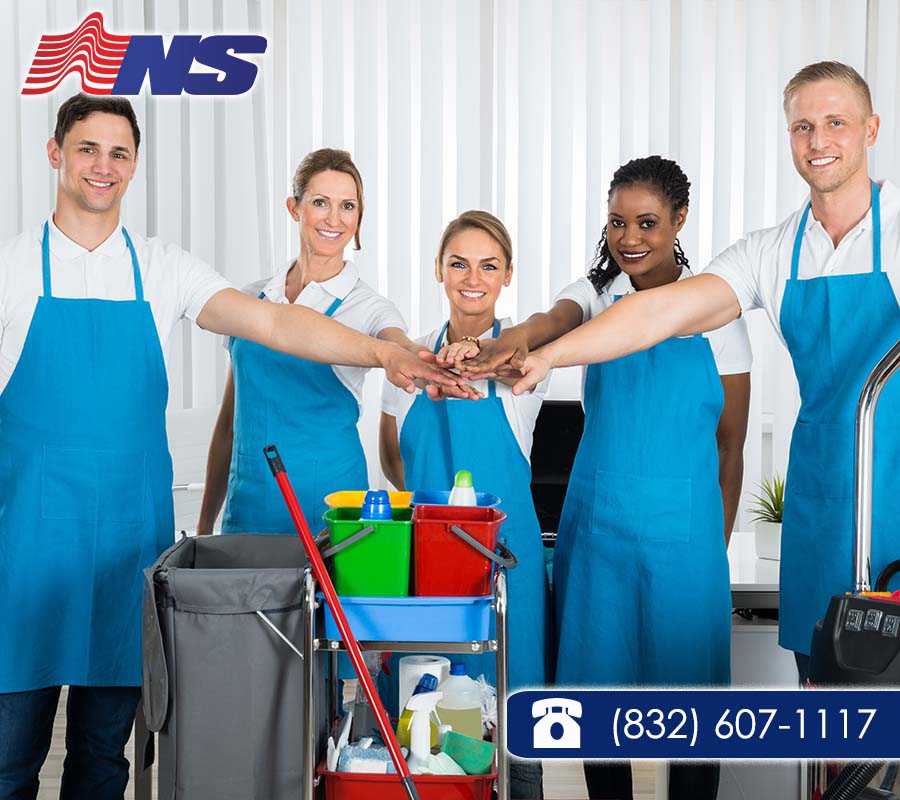 houston commercial cleaning, houston janitorial cleaning, houston commercial locations cleaning, houston shopping centers cleaning, houston financial institutions cleaning, houston office building cleaning, houston schools locations cleaning, houston preschools buildings cleaning, houston private institutions cleaning, houston church groups cleaning, houston dental offices cleaning, houston hospital facilities cleaning, houston day care offices cleaning, houston country clubs cleaning, houston fitness centers cleaning, houston health clubs cleaning, houston new construction cleaning, houston post construction cleaning, houston relocation and moving cleaning, houston pre and post event cleaning, houston floor stripping, houston floor waxing, houston apartments cleaning, houston condos cleaning, houston auto dealerships cleaning, houston retail stores cleaning, houston restaurants cleaning, houston kitchen cleaning, houston bars cleaning, houston construction cleaning, houston post construction cleaning, houston building cleaning, houston heavy cleaning, houston house cleaning, houston deep cleaning, houston office cleaning