Practicing Efficient Hygiene in Schools Has Its Benefits
Houston Schools Locations Cleaning
One fifth of the nation's population spends approximately 16,380 hours in school. With so much time spent in school, it is beneficial to ensure schools are a healthy environment for students, teachers and staff. Cleanliness in schools is important to manage invisible germs like MRSA, influenza, staph, E-Coli and mold. Furthermore, when illnesses are spread it takes away from a child's ability to gain knowledge, amount of time teaching from teachers and productivity for staff. Therefore, it is necessary for schools to have an efficient cleaning system in place.
Schools are busy places with a large number of individuals touching doorknobs, consuming food in cafeterias, sharing restrooms, desks, water fountains, keyboards, sinks and so much more. With the increase in cross touching, it significantly increases the risk of spreading germs and illnesses. To assist in the control of spreading germs, it is important for cleaning tools to be more dependable than the traditional mop, bucket, rags and spray bottles. These traditional items have been found to spread bacteria and have a higher potential to spread disease from surface to surface or classroom to classroom, as they do not effectively remove bacteria. Additionally, a recent concern has surfaced; individuals have been diagnosed with asthma or cancer which has been tied to exposure from chemicals found in cleaning products by the residue that is left behind. Are children, teachers and staff unnecessarily exposed? Improving this type of exposure is essential to the health of students, teachers and staff.
Floor scrubbers are convenient in cleaning under desks, tables or counters. They have the maneuverability to get into tight spaces and can easily handle corners. This saves time from having to move furniture or manually clean those isolated areas. Using a walk behind floor scrubber to clean educational facilities has many benefits. It can be used to clean during the day because it spreads the solution, scrubs and picks up dirt, water and solution at once. The squeegee system leaves the floor dry making it safer to use in place of a mop and bucket.
Source: Ezine Articles
NS COMMERCIAL CLEANING, specialize in providing the highest quality in professional janitorial services & maintenance to banks, office buildings, commercial, schools and much more around Houston area, We address their requests with ease!!! CONTACT US AT (832) 607 - 1117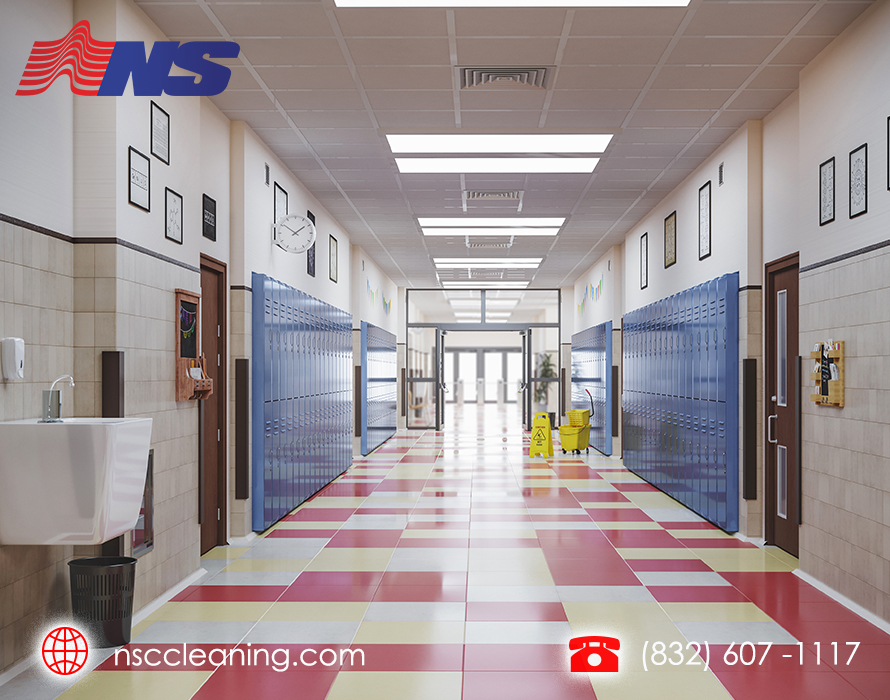 houston commercial cleaning, houston janitorial cleaning, houston commercial locations cleaning, houston shopping centers cleaning, houston financial institutions cleaning, houston office building cleaning, houston schools locations cleaning, houston preschools buildings cleaning, houston private institutions cleaning, houston church groups cleaning, houston dental offices cleaning, houston hospital facilities cleaning, houston day care offices cleaning, houston country clubs cleaning, houston fitness centers cleaning, houston health clubs cleaning, houston new construction cleaning, houston post construction cleaning, houston relocation and moving cleaning, houston pre and post event cleaning, houston floor stripping, houston floor waxing, houston apartments cleaning, houston condos cleaning, houston auto dealerships cleaning, houston retail stores cleaning, houston restaurants cleaning, houston kitchen cleaning, houston bars cleaning, houston construction cleaning, houston post construction cleaning, houston building cleaning, houston heavy cleaning, houston house cleaning, houston deep cleaning, houston office cleaning