Janitorial Office Cleaning
Commercial Locations Cleaning in Houston
Business premises are huge and require professional services to maintain the cleanliness of the office space. A sparkling office radiates freshness and warmth among its employees, clients and customers. Commercial complexes generally contract janitorial office cleaning services to clean and maintain their buildings.
Office cleaning companies provide a wide range of services based on their proficiency and the requirements and budgets of their customers. The basic tasks provided by janitorial services include building maintenance, floor cleaning, washroom cleaning, dusting, window cleaning and removal of garbage. These janitorial companies can also provide more advanced cleaning options like customized maid facilities, exterior polishing, waxing hardwood surface and replacing light bulbs.
Please call NS COMMERCIAL CLEANING, LLC, and get all the information about all the services we offered. We love to open a conversation about all the needs you're looking for, we will work on a free estimate, and the most important thing is that we can always tailor a service for you.
NS COMMERCIAL CLEANING will provide you a sense of peace because of our values and professionalism you will find on our team. Please read below and let us be part of your trustworthy team
Here are a few things which are essential for a professional janitorial office cleaning service:
High cleaning standards: Every company provides a list of things and areas to be cleaned. However, a professional service provider clearly assures of excellent cleaning standards which can be sensed from their negotiations.
Control on quality: Quality control is the second most essential step for a janitorial service provider. Keeping an office space clean is important but regular follow-up, to confirm timely and perfect cleaning services, is what makes the difference. The quality of cleaning products, manpower, and quality and control on replacement of cleaning equipment can guarantee that offices are maintained in a spic-and-span manner.
Consistent performance: A service provider might provide the best service for a few days and start deteriorating their quality over a period of time. The choice of a service provider should be made keeping consistency in mind.
Experience in the industry: The fresh launch pads in this service industry will try to provide the best possible services but nothing can beat the most experienced providers. They can recommend the best office cleaning requirements just by having a sneak-peak at the client's establishment.
Employee training: Anyone can try to clean a home or office but not everyone can provide the same glittering look as well-trained personnel. Ensure that the service provider recruits employees only after rigorous training. Check the training procedures in place and ascertain that no untrained employee shall enter the office premises.
Security monitoring: The janitorial service provider should also certify that all rooms are locked up, windows and doors properly bolted and equipments in place after the cleaning activity.
Source: Ezine Articles
NS COMMERCIAL CLEANING, specialize in providing the highest quality in professional janitorial services & maintenance to banks, office buildings, commercial, schools and much more around Houston area, We address their requests with ease!!! CONTACT US AT (832) 607 - 1117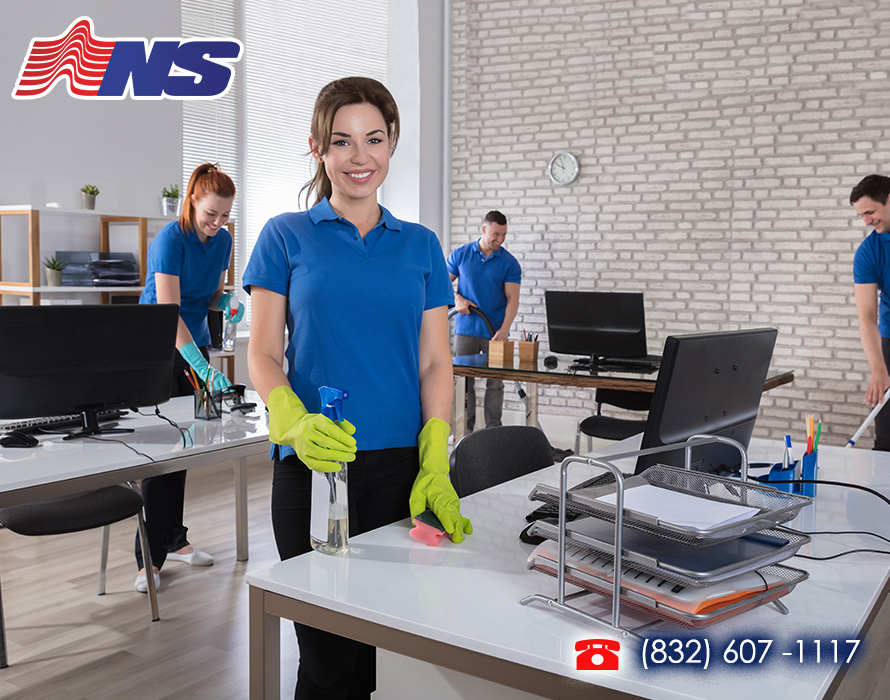 houston commercial cleaning, houston janitorial cleaning, houston commercial locations cleaning, houston shopping centers cleaning, houston financial institutions cleaning, houston office building cleaning, houston schools locations cleaning, houston preschools buildings cleaning, houston private institutions cleaning, houston church groups cleaning, houston dental offices cleaning, houston hospital facilities cleaning, houston day care offices cleaning, houston country clubs cleaning, houston fitness centers cleaning, houston health clubs cleaning, houston new construction cleaning, houston post construction cleaning, houston relocation and moving cleaning, houston pre and post event cleaning, houston floor stripping, houston floor waxing, houston apartments cleaning, houston condos cleaning, houston auto dealerships cleaning, houston retail stores cleaning, houston restaurants cleaning, houston kitchen cleaning, houston bars cleaning, houston construction cleaning, houston post construction cleaning, houston building cleaning, houston heavy cleaning, houston house cleaning, houston deep cleaning, houston office cleaning