9 Reasons Why You Should Hire A Professional End of Tenancy Cleaning Service
Commercial Cleaning Services
Why you should seriously consider a professional end of tenancy cleaning service.
Save Time
An End of Tenancy Cleaning Service will save you lots of time. A dedicated team of cleaners will come in and blitz the house in a matter of hours. You don't have to be there to oversee the work so you can get on with other things.
No work involved on your part
An end of tenancy clean needs to be stringent to meet the standards of Inventory Checks. So by using a professional tenancy cleaning service you can get a thorough clean without lifting a finger yourself. Cleaners will get into all those little corners and spruce everything up.
Expertise and Experience
A dedicated team of end of tenancy cleaners will know exactly what is required. After all they clean many houses day in and out, so they have been there and done it. They will know what your particular place needs to pass Inventory Checks.
Products and Equipment
When you hire a professional cleaning service, typically they bring their own products so you don't have to worry about this at all. They will have a tonne of products in their selection. They will also have special equipment required. If there is grout they will have something for it. If you have high ceilings they will have just the right tool to tackle all those cobwebs high up.
Job will be done well
When you use a professional end of tenancy cleaning service you can be sure that they will do the job right. You can trust in their experience, knowledge, their equipment and ability to do a job well. When you try it yourself you cannot be so sure. In many cases, end of tenancy cleaners are called in to rectify a job that has been poorly done by tenants.
Guarantee
In the event that tenancy cleaners miss something you have their guarantee that they will come back and redo free of charge. You don't need to spare any time for this and you will not lose any money. All you need to do is let them know and they will be there to correct.
Get your deposit back
Most tenants lose a chunk of their deposit on cleaning issues. With a professional end of tenancy cleaning service you eliminate this risk because they guarantee to take care of all cleaning matters and rectify if needed.
Cost and time saving
Because hiring a tenancy cleaning service is efficient and you don't need to get any products or take time out yourself, you will be saving money in the long run. If any rectifications are needed you don't need to do them, the cleaning service will take care of all cleaning issues in relation to your end of tenancy. So you are not only saving money but also time.
Stress-free
Cleaning is a big part of most end of tenancies and relinquishing this responsibility to a dedicated cleaning service provider frees you of all the responsibilities associated with cleaning. You can get on with other things knowing that someone experienced and knowledgeable is taking care of the cleaning.
Source: Ezine Articles
NS COMMERCIAL CLEANING, specialize in providing the highest quality in professional janitorial services & maintenance to banks, office buildings, commercial, schools and much more around Houston area, We address their requests with ease!!! CONTACT US AT (832) 607 - 1117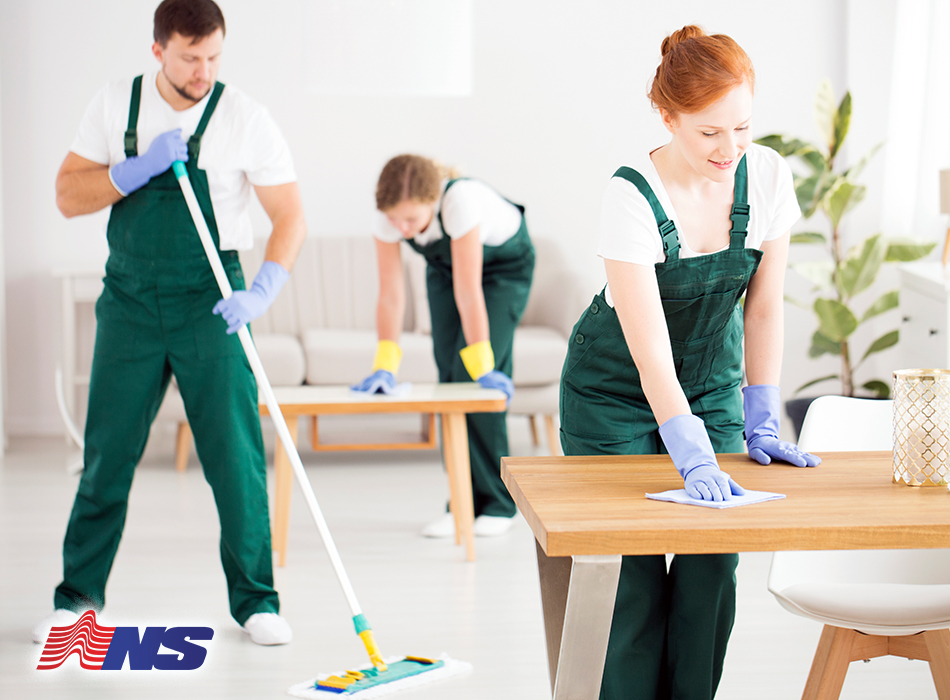 houston commercial cleaning, houston janitorial cleaning, houston commercial locations cleaning, houston shopping centers cleaning, houston financial institutions cleaning, houston office building cleaning, houston schools locations cleaning, houston preschools buildings cleaning, houston private institutions cleaning, houston church groups cleaning, houston dental offices cleaning, houston hospital facilities cleaning, houston day care offices cleaning, houston country clubs cleaning, houston fitness centers cleaning, houston health clubs cleaning, houston new construction cleaning, houston post construction cleaning, houston relocation and moving cleaning, houston pre and post event cleaning, houston floor stripping, houston floor waxing, houston apartments cleaning, houston condos cleaning, houston auto dealerships cleaning, houston retail stores cleaning, houston restaurants cleaning, houston kitchen cleaning, houston bars cleaning, houston construction cleaning, houston post construction cleaning, houston building cleaning, houston heavy cleaning, houston house cleaning, houston deep cleaning, houston office cleaning