Your Dental Office Cleaning Checklist
Houston Dental Offices Cleaning
Dental Office Cleaning Procedures for Offices of Every Size
The size of your office matters. It determines how much you need to clean, how often, and how many people you'll need to get the job done.
The best way to break down the tasks is to decide which are the areas that have the most traffic. Those are usually the places that need to be cleaned the most.
If you're not sure where to start, put yourself in your patients' shoes and imagine walking in for the first time. Where would you look first? Where would you go? Then list out those areas in sequence for cleaning.
Different Types of Cleaning
For your office, there are a few different types of cleaning methods that you should focus on. This is a checklist to make sure you don't forget any of them.
Disinfecting
As a dentist, you probably know how important it is to disinfect and sanitize tools. But what about the space around it? Those are equally important.
In your immediate workspace, pay special attention to the following:
Patient chairs (armrests and headrests)
X-ray equipment
Drawer handles
Cabinet and door knobs
Faucets and sinks
In the waiting and reception areas, focus on these items:
Reception desk
Keyboards and mice
Phones receivers and keypads
Drawer handles
Filing cabinet and door knobs
Pens
Back of chair where people hold onto the most
As always, make sure you're following the standard protocols outlined by the CDC and OSHA.
Dusting
Dusting is all about having the right tools. Avoid feather dusters because all they do is spread dust around. Instead, use dampened soft clothes, microfiber dusters, or a tiny handheld vacuum.
Try not to wait until the dust is visible either. The longer you wait, the more likely it is to carry nasty germs and bacteria around the office. And for those patients with allergies, dusting can make a whole world of difference.
Organizing
Organizing is key to running a smooth and productive office. Pay attention to loose paperwork, mail, catalogs, magazines, and patient files. The less clutter you can leave out in the open, the better.
If you offer your clients magazines, get a magazine bin to display them. It looks nice and keeps it neat.
As for patient files, we all know better to leave them lying around but when it's super busy, it happens. Instead of throwing them on the desk though, buy a file organizer to put them in instead. When you have more time, you can come back and organize them.
Pro tip: leave signs around to tell people to put things back (i.e. magazines, pens). This will only save you time.
Discarding
The last but not least important part of your cleaning list is discarding wastes. When you leave garbage lying around or sitting in the garbage bins for too long, germs and bacteria can also grow there. To prevent this, make sure you dispose of waste frequently.
Clinical wastes and almagam wastes should all be disposed of according to industry standards. Failure to do so can result in heavy fines. Make sure you understand all the rules defined by the Environment Protection Act regarding disposing of dental wastes.
Your office is a reflection of your service and attention to detail. Having a clean office is not only great for your patients but it shows that you care about your workspace.
We all know going to the dentist isn't exactly the favorite thing to do for most people, but we can at least make the environment as welcoming as possible by keeping it clean and organized.
And a clean office is not only for your patients, it's for yourself and your team members. After all, you're there more than anybody else and you should treat it like your home.
Source: ADA Marketplace
NS COMMERCIAL CLEANING, specialize in providing the highest quality in professional janitorial services & maintenance to banks, office buildings, commercial, schools and much more around Houston area, We address their requests with ease!!! CONTACT US AT (832) 607 - 1117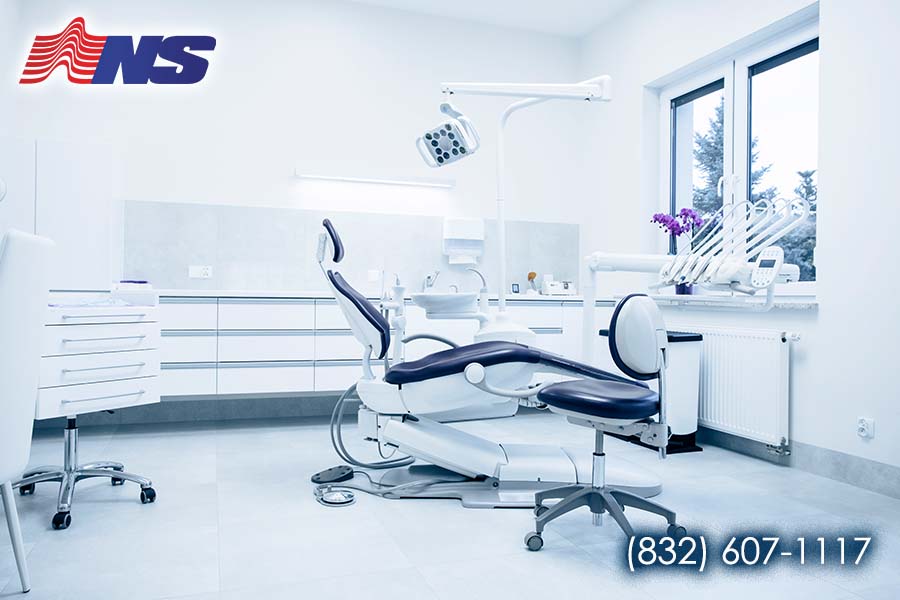 houston commercial cleaning, houston janitorial cleaning, houston commercial locations cleaning, houston shopping centers cleaning, houston financial institutions cleaning, houston office building cleaning, houston schools locations cleaning, houston preschools buildings cleaning, houston private institutions cleaning, houston church groups cleaning, houston dental offices cleaning, houston hospital facilities cleaning, houston day care offices cleaning, houston country clubs cleaning, houston fitness centers cleaning, houston health clubs cleaning, houston new construction cleaning, houston post construction cleaning, houston relocation and moving cleaning, houston pre and post event cleaning, houston floor stripping, houston floor waxing, houston apartments cleaning, houston condos cleaning, houston auto dealerships cleaning, houston retail stores cleaning, houston restaurants cleaning, houston kitchen cleaning, houston bars cleaning, houston construction cleaning, houston post construction cleaning, houston building cleaning, houston heavy cleaning, houston house cleaning, houston deep cleaning, houston office cleaning